Our services at a glance
Balance calibration Inhouse & on-site

Shortest turnaround in the KERN calibration laboratory of maximum 4 working days after receipt of your order allows you an almost uninterrupted use of your Balance in your production process. Optionally, you also have the possibility to calibrate your scales on-site. These on-site testing service is metrologically recommended, because the scale is calibrated in the use environment and without any transport problems. Minimized downtime and personal contact with our expert distinguish this service. We gladly inform you and make an appointment with you. Recalibration is recommended after 1 year. Onsite calibration of your weights in OIML Class M1 - M3 (10 kg - 50 kg) may be for you as a low cost alternative. We are happy to come to you and calibrate with our mobile calibration system "MACOS" your test weights.
Weights calibration

Again KERN is unbeatable with extremely short turnaround times. The most modern calibration robots at the location Balingen calibrate your test weights with the lowest measurement uncertainty based on the international guidelines of OIML R111 and thereby ensuring a reliable measurement result.
Volume determination

For the calibration of each new weight of OIML class E1 it is neccessary to determined its volume for air buoyancy. Accredited volume determination in our laboratories is an fixed part of our high-end Claim.
Digital calibration certificate
Of course you get the DAkkS certificates issued by us also in digital configuration. Ideal for your own archiving or as "Express solution" by e-mail if things should go faster.
Reconditioning of weights
KERN brings your weights indipendent of the manufacturer back into shape. Whether adjustment, marking, sand blasting or painting - standard conformity and long-term stability are here the aim. Special measures on request.
Database supported
test equipment Management
Your test weights that we calibrated for you are stored in our database. So it is possible to forecast trend calculations. You receive an overview of long-term stability and trend behavior of your checking equipment.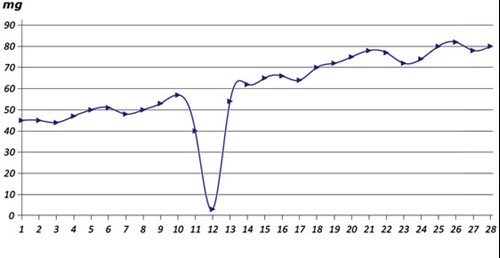 Magnetic characteristics
By measuring the susceptibility / magnetization we make reliable a statement about the magnetic characteristics of your test weights. "Magnetic" weights can distort the measurement result in the use on the scale.
Reminder service
The continuous cyclic recalibration of your checking equipment is an important component of a reliable gauge management. We support you and remind you in time and for free at the upcoming recalibration.
ISO calibration
KERN constantly expands the extent of accreditation of its calibration accreditation. For measurement variables for which KERN does not yet hold accreditation, there will be created so called ISO calibration based on KERN-internal test procedures.