From now on, first and second language can be selected in the DAkkS calibration certificate.
Dear customers
from now on you have the possibility to have your DAkkS calibration certificates issued in a language combination of your choice.
One of the two languages specified in the DAkkS calibration certificate must, however, be German or English.
The following languages are available:
🇩🇪 German 🇬🇧 English 🇫🇷 French 🇮🇹 Italian 🇪🇸 Spanish 🇵🇱 Polish 🇳🇱 Dutch
If you require your DAkkS calibration certificate(s) in a specific language combination, please let us know in your inquiry and/or order, stating the first and second language.
The first language corresponds to the normal font (1), the second language corresponds to the font (2) shown in italics in the calibration certificate.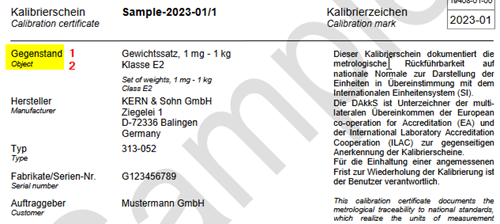 If you do not provide us with any specifications, the DAkkS calibration certificates will be issued in the usual language combination and made available to you.
We hope to be able to respond even better to your individual wishes. Should you have any further suggestions for improving our services, we would be pleased if you would give us your feedback here.
Your KERN DAkkS calibration laboratory